Calmly the river runs by a group of people preparing a BBQ. Its one of the last summer days and people seem to make the best of it. We are at the hacker space – no reconstruction place of a space station – C-base in Berlin.
E-punk meets us at the front door and takes us in to the reconstruction site. The sci-fi atmosphere and creativity cant be misted. The space functions around the principals of "core", "com", "culture", "creactiv", "cience", "carbon" and "clamp".
Many people and groups meet here for example the Freifunk (Wifi-) Community, Netzpolitik.org, Hack and Tell, Lockpickers, Go-Players and the Pirate Party Germany was established at C-base.
Looking forward to come back again and start filmning some of the great projects running under this roof – no air lock.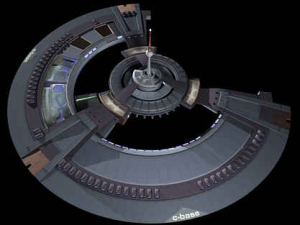 Photo by MeTaVoLuT1oN and C-base.